Windows 7 - Pleasing to the eye but still a surveillance tool
Windows seems to have taken a page out of Apple's book by making the user interface (the 'Desktop') look really nice (eye candy). If I had not known about the surveillance technology that this OS (Operating System) is based on I would have switched a long time ago. I do have a backup computer with Windows 7 that I use when doing Teamviewer sessions with others as it considers a session on my Windows XP machine as a commercial activity and limits my session to less than 5 minutes(!). They should just come out and say they no longer support XP instead of playing those sorts of games.
Windows 8 - 8.1 is absolute crap
This was the first major overhaul of the Windows user interface and most people hated it. If you are in the unfortunate position of having Windows 8 or 8.1 do yourself a favor and upgrade to Windows 10 (since you have a computer that has this OS already installed). I don't think one can downgrade and install Windows XP on the new machines these days as the graphics card will most likely default to a screen resolution of 640 x 480 and 256 colors since there will be no drivers for Windows XP for that particular model and chipset. But you can always try!
If you want to upgrade your Windows 7, 8 and 8.1 machine to Windows 10 and not go backwards here are two genuine installation files (one for 32bit systems and one for 64bit systems) that were downloaded from Microsoft's own website last year - they are from 2019 and are ISO files. If you have a dual layer optical drive that can write to dual layer DVDs I would burn the ISO to disc using ImgBurn and select 'Write Image File to Disc', then find the Windows 10 file you downloaded and click on it.
If you don't have an optical drive you will need to do the step below.
For this step you will need an 8GB USB flash drive or larger and this program (for 64bit systems) (or this program for Windows 7 32bit systems or this program if you are trying to create an installation USB drive on a Windows XP machine) to prepare the USB drive and install Windows 10 onto it so that you can use it to install Windows 10 onto the computer. Its a really convoluted way of doing things, but that's Microsoft for you! The image below is a screen shot of what options to choose when using Rufus in Windows XP.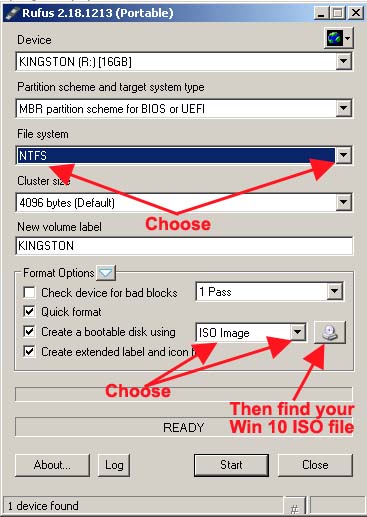 The next page is dealing with Windows 10 itself.